What is Mid Year Conference?
Mid Year Conference (MYC) is the annual conference of Campus Bible Study.
Each year, hundreds of students take some time away from the bustle of uni life to spend the week learning more about Jesus and asking the big questions in life. It's a time to learn, reflect, make friends, and have a lot of fun. Join us!
[ REGISTRATIONS NOW CLOSED ]
Why was the death of a man on a cross so significant?
Why was the cross necessary? Couldn't God just forgive? And why did it have to be Jesus?
MYC is a great opportunity to find the time and space to ask these questions together and deepen our knowledge of what really happened on that cross 2000 years ago.
Bring along your questions and find out what the cross really means for life here and now!
Registrations now closed.
Reflections from Past MYCs
MYC has had a huge impact on the way I read the Bible and understand what the Bible means for me today. I have learnt that the Bible is one huge story that all points towards Jesus and that the good news about Jesus needs to change my thoughts and desires.
MYC really showed me the richness of God's word and in doing that, it challenged me to be more intentional, and not superficial, with my Bible reading

I used to be quite scared at the thought of exposing my weaknesses in my understanding of the Bible, in relating to people the around me and even in my own general struggles. However, what I soon realised was that MYC is an opportunity to be encouraged, challenged and supported all at the same time in a safe and loving community.

MYC is an amazing opportunity to spend a week diving deeper into Gods word than most people ever get the chance to. It's an amazing privilege to learn so richly from God's word!

Even though MYC is overwhelming at times, I love MYC because of all the fellowship and sharing that happens. It's so encouraging being able to be under God's word and helping each other learn and grow.

There is no better conference to attend than MYC! The chance to be challenged from the Bible about the overarching theology of a single topic is incredible and life-changing. Another highlight is the fellowship with hundreds of other Christians and encouraging each other over the week!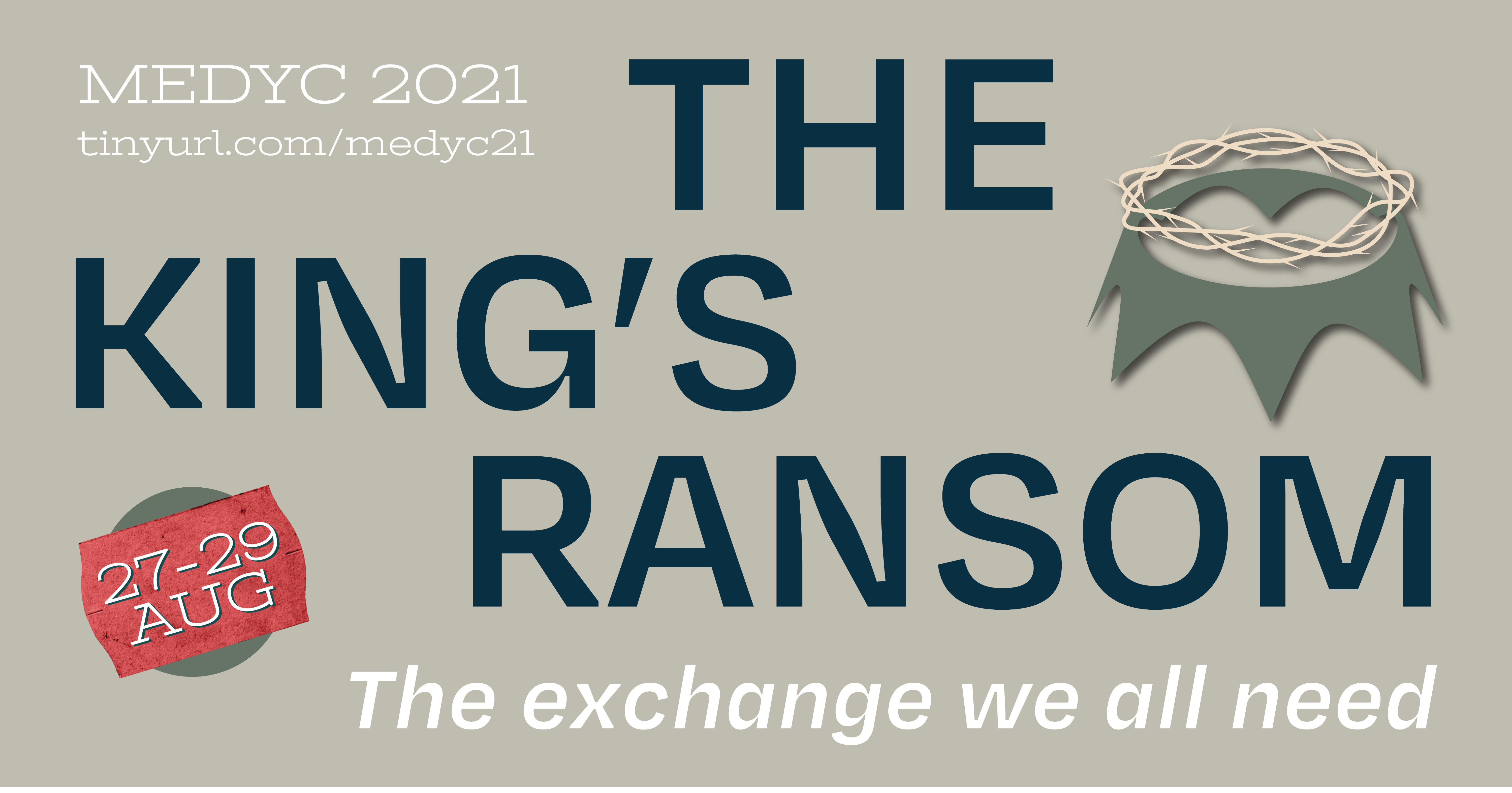 MEDYC 2021
UNSW Medicine students unfortunately miss out on MYC with the rest of campus, but there is still an opportunity for you to join us to delve into the Bible and learn more about Jesus.
We'll be exploring the same topic of "THE KING'S RANSOM", come and join us!
Our annual MEDYC will be happening on 27-29 August ONLINE this year!
Registrations are open until midnight on Wednesday 11th August.
Frequently Asked Questions
Where will MYC be?
This year we will be split across two sites in the Blue Mountains; Lutanda Mount Victoria, and KCC Katoomba.
Who should come along?
We welcome along anyone who is keen to learn from God's Word, whether you've read the Bible for many years or have never opened it before.
Can I come to MYC if I can only make certain days?
We would really love for you to be with us as long as possible and it is (much) better if you are able to make the whole conference. We understand though that there are circumstances that make this difficult, so please chat to your faculty trainee for more details
How much does MYC cost?
For 2021, MYC will cost $460 for standard rego, with a $20 earlybird discount ending at midnight on 28th March.
If this will be your first time at an in-person MYC then you are eligible for a further $35 discount in addition to any earlybird discount!
If finances are an issue we don't want that to be a barrier to you joining us, please chat to your faculty trainees or email Joshua Lu (joshua.lu@campusbiblestudy.org) and we'll work together to get you there.
What does my payment go towards?
The cost covers accomodation, food, and other operational expenses of the conference.
When do I have to register by?
Standard rego finishes on the 11th April, while the earlybird discount will end on the 28th March.
Why do first timers get a discount?
Coming to MYC for the first time can be a bit daunting, so we want to make it as easy as possible for first-time students to come and check it out.
Will there be family night?
Family night will be back again this year on the Wednesday night 26th May from 7pm at Katoomba Christian Convention! Family night is where friends & family of Campus Bible Study are warmly invited to join in-person for a part of MYC - singing God's praises, hearing the bible talk, and enjoying fellowship with each other. You can sign-up here!
What if the COVID situation escalates?
Campus Bible Study are committed to ensuring that MYC takes place in a safe way. As such we will take all measures necessary at the time to ensure the health and safety of all attendees.